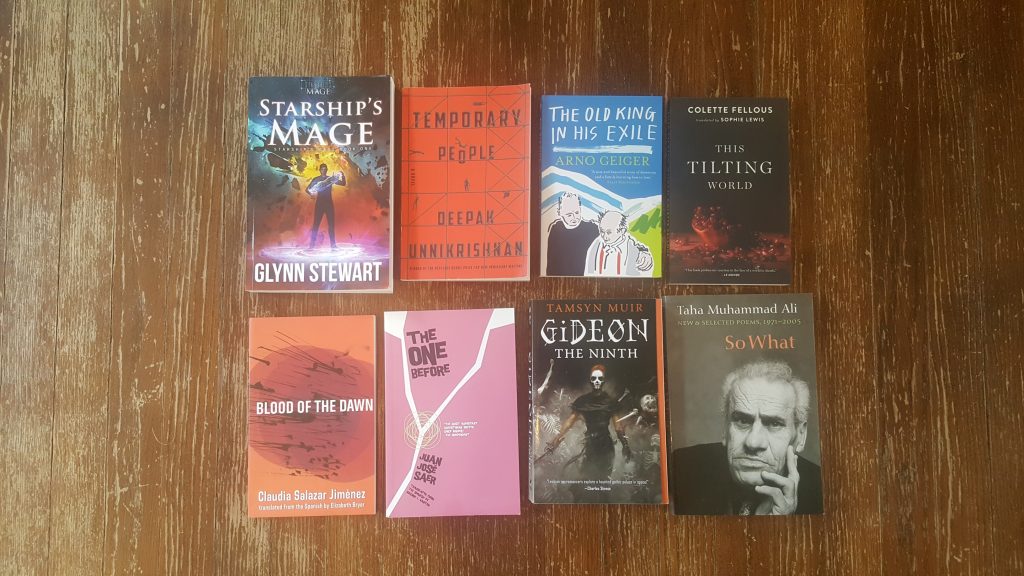 This month was bookended with genre fiction, with the middle a delicious mix of fiction in translation as I slowly work through my backlog of such titles. I realize that I started this project out with more ambition than is sustainable in the long term, and so I am scaling back the digging through translated works to about three a month, rather than half a dozen. This leaves more room for nonfiction, poetry and works not specifically from the translated fiction/subscription backlog. And that relieves the pressure on my reading habits and thus makes for a more pleasurable pastime.
And at the last minute I got a jump start on National Poetry Month with Taha Muhammad Ali's So What, from Copper Canyon Press. Expect to see a lot more poetry show up here in the next reading update.
In short fiction I have fallen significantly behind my original goal. In order to hit an average of one piece of short fiction a day for the year at this point I would need to read four a day for the next month in order to catch up, and in order to free up that time I would need to neglect my girlfriend, our cats, or what little sleep I currently manage.
Books
Short Prose
Monette, Sarah, "A Light in Troy", Clarkesworld #1 (2021.03.02)
Larson, Rich, "Meshed", Clarkesworld #101 (2021.03.10)
van Eekhout, Greg, "The Osteomancer's Son", Clarkesworld #101 (2021.03.12)
Griffith, Nicola, "It Takes Two", Clarkesworld #101 (2021.03.18)
Muhammad Ali, Taha, "So What" (2020.03.29)