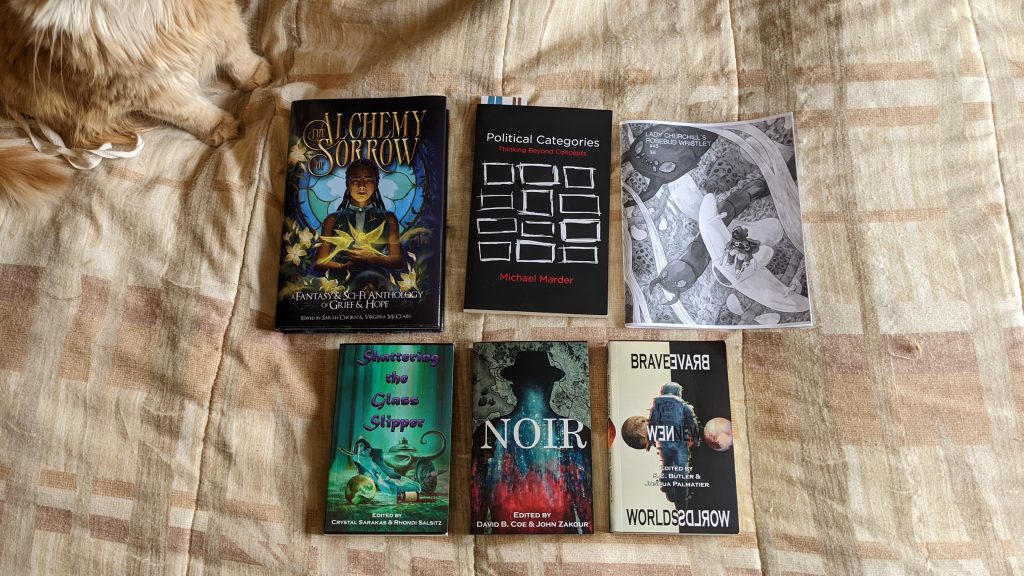 While objective time chugs along at a steady page, subjective time starts and stops and lurches and grinds like an old pizza joint animatronic playing freeform jazz.  The slow months and short days have become fast months and short days,  which is far from the summertime ideal of slow months and slow days. Thus the frantic scramble to complete everything ahead of the end-of-summer deadline, which for me hasn't been a real deadline for about thirty years.
Several new books and such made their way into the library this past week.
First up is the Kickstarter edition of The Alchemy of Sorrow, an anthology of grief and hope edited by Sarah Chorn & Virginia McClain.
Next is an interesting one; Political Categories: Thinking Beyond Concepts by philosopher Michael Marder. I had not heard of Marder before a friend recommended a few of us from Back In The Day pick up this book and put together a discussion group as we read it.
On the top right is the new issue of Lady Churchill's Rosebud Wristlet, published by Small Beer Press.
The bottom three are the new anthologies from the 2021 Kickstarter by Zombies Need Brains – Shattering the Giass Slipper, Noir, and Brave New Worlds. ZNB consistently turns out quality anthologies (I now have 12 of them!) so I look forward to diving into the books this autumn.
In reading news, I am about halfway through J.M. McDermott's Maze, published by Apex Books. So far, I like it! The story is odd and disjointed in a way which I find appealing, and I am eager to discover how McDermott ties everything together.
In writing news, not much to report. I cam out of July even more tired and burned out that I was going in, and that's saying something. I didn't have any meaningful down time and every area of my life is beginning to seriously suffer from that state of being. And this is particular frustrating because Zombies Need Brains just announced the themes for their four(!) anthologies which will be published as part of their 2022 Kickstarter campaign, which launches next week.
I want to submit stories for these anthologies. In order to do that, I need to have the mental energy to do some writing.
And that is, right now, in short supply.