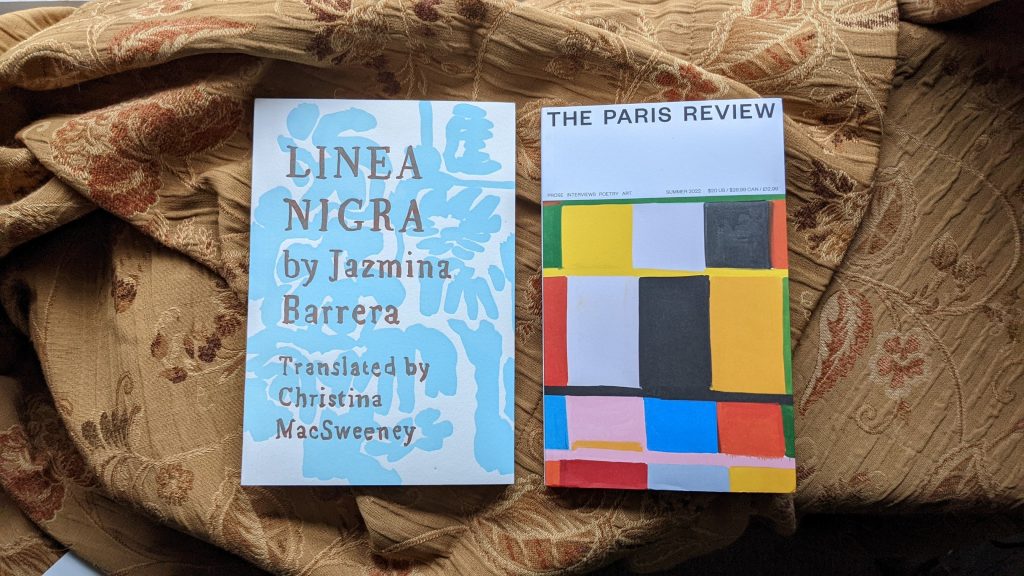 With the summer solstice behind us the days are slowly getting shorter but the work never ends and so I have resigned myself to the sight of the late afternoon shadows lengthening ever so slightly earlier every day. And summer has just begun.
Two new bookish things arrived in the past week. First up, from Two Lines Press, is a special edition bilingual chapbook which contains the first part of Jazmina Barrera's Linea Nigra, printed by Impronta Casa Editora. This little book is gorgeous, and has reaffirmed my opinion that chapbooks are absolutely a viable mode of publishing, for prose as well as poetry. The full version of Linea Nigra arrived at the house back in April.
Next is the latest issue of The Paris Review, which will go on the bottom of the stack of my back issues, through which I am steadily reading.
In reading news I am on issue #217 of The Paris Review, with (does the math) [N] more to go until I am caught up to present. The most recent issue came with a note that the Winter 2022 issue will be the last issue of my subscription, and I admit I am conflicted about letting the subscription lapse, if only because, poetry and prose aside, the interviews in The Paris Review are AMAZING!
I am also reading Janelle Monáe's remarkable The Memory Librarian, and may well have it finished by the time this post goes live. I can't say enough good things about it. Beautiful queer cyberpunk with a strong helping of bio- and neuro-punk on the side. Highly recommended.
In writing news, nothing to report. Maybe next week.