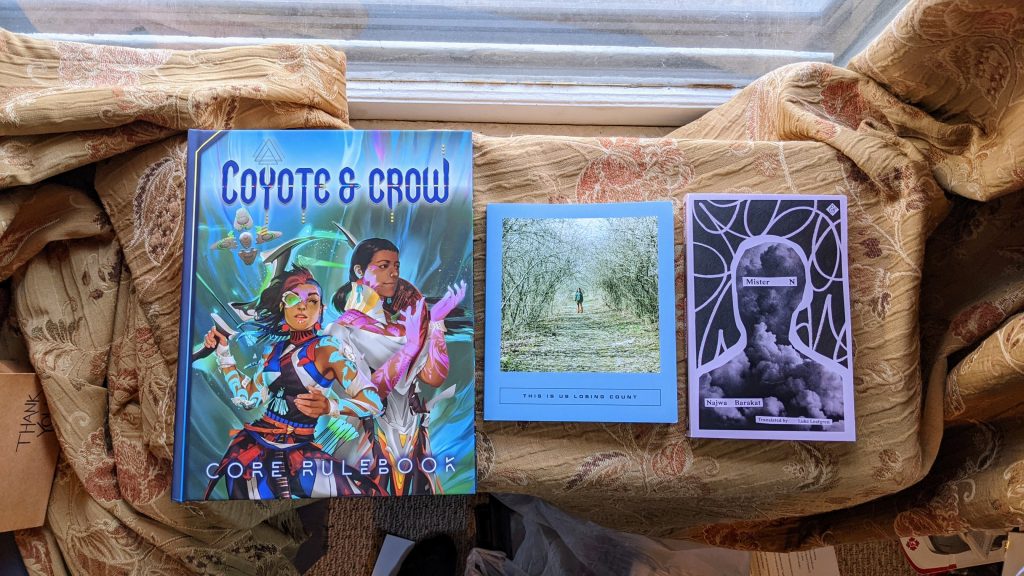 Oh, what a week this was. For reasons not germane to this post, this past week was unproductive and exhausting in the extreme. Suffice to say that, even in the declining days of the pandemic, as the world slowly reawakens after a subjectively excessively long winter, the mundane world continues to exist.
Three new books arrived this past week, and it is indeed a stellar stack.
First up is Coyote and Crow, the core rule book for a new tabletop role-playing game which was funded through an immensely successful Kickstarter campaign. Like so many other Kickstarters over the past couple of years, there were delays and setbacks, but the final product is stunning!
Next up is This Is Us Losing Count, a collection of poems in translation from eight contemporary Russian poets. This anthology is part of the Calico series from the Center for the Art of Translation/Two Lines Press, one of the two publishers with whom I still have a subscription.
And finally we have Mister N, written by Lebanese author Najwá Barakāt and translated by Luke Leafgren. This book arrived from And Other Stories, the other publisher to whom I am still subscribed.
In reading news, I just finished They Can't Kill Us Until They Kill Us, Hanif Abdurraqib's collection of articles and essays about music and its intersection with race and culture. I picked this one up when Zyra and I visited City Lights Books in June 2018. I pulled it down from the shelf when I saw that Abrurraqib will be the guest lecturer for the March 2022 GVSU Arts Celebration hosted by Grand Valley State University.
And in writing news, there was no writing this past week. Too many distractions, disruptions, and sorrows.