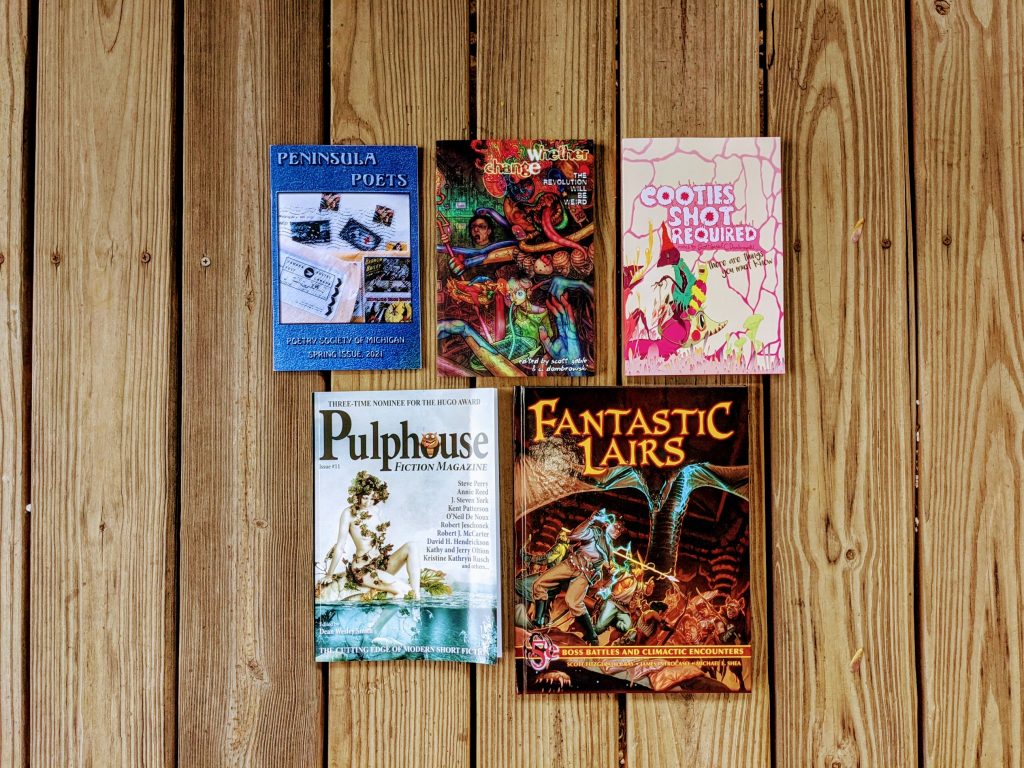 As of two days ago, I am two weeks past my second COVID shot, which means, according to the CDC, that I am fully inoculated, or at least as inoculated as one can get against things which continually evolve in response to our interactions with the world. We are well into the Anthropocene, and the scene is getting dangerous, what with the continual and inevitable responses to our actions upon the parts of the planet that are not us.
This was a good week for acquisitions here at the Library of Winkelman Abbey, thanks in large part to the arrival of rewards from a couple of recent Kickstarter campaigns.
First is the Spring 2021 issue of Peninsula Poets, the journal of the Poetry Society of Michigan, to which I had accidentally let my subscription lapse. Things are back in good order now, and just in time to serve as writing inspiration going into the summer.
Next is another Kickstarter reward, Whether Change: The Revolution Will Be Weird and Cooties Shot Required, both edited by Scott Gable and C. Dombrowski of Broken Eye Books, who publish very well-made anthologies full of good-to-great writing on a variety of topics.
On bottom left is the latest issue of Pulphouse Fiction Magazine, which is consistently just a damn good read.
On the bottom right is Fantastic Lairs: Boss Battles and Climactic Encounters, from a recent Kickstarter. I have put money toward several games on Kickstarter in recent years. Though I haven't played in a long time, the ideas in the rule books, the world building, tactics, and strategies therein make for good study and good writing prompts.
In reading news, I am just over a hundred pages into Arkady Martine's A Memory Called Empire. I haven't completed enough of the book to form a solid opinion, but I am really enjoying it so far. For nonfiction I am slowly working through Darran Anderson's Imaginary Cities. Though well over a hundred pages in, I am tempted to go back and start again, this time with a notebook nearby. I have not read anything like this book. It is a survey, a history, a meditation, a treatise, and it reads like poetry. At less that 20% through this book, I think it will be one of my favorite reads of the year. Highly recommended.
In writing news, not much has changed from last week. I still feel kind of brain-dead from the effects of the second vaccination shot as well as *gestures at the world*, though the effects of the shot have mostly worn off. The world, not so much. But warmer days means mornings on the porch will soon be viable, and when that happens I hope to hit the ground running with several hundred thousand words of prose by the end of the year.
Or maybe a couple of poems.
Or somewhere in the middle.