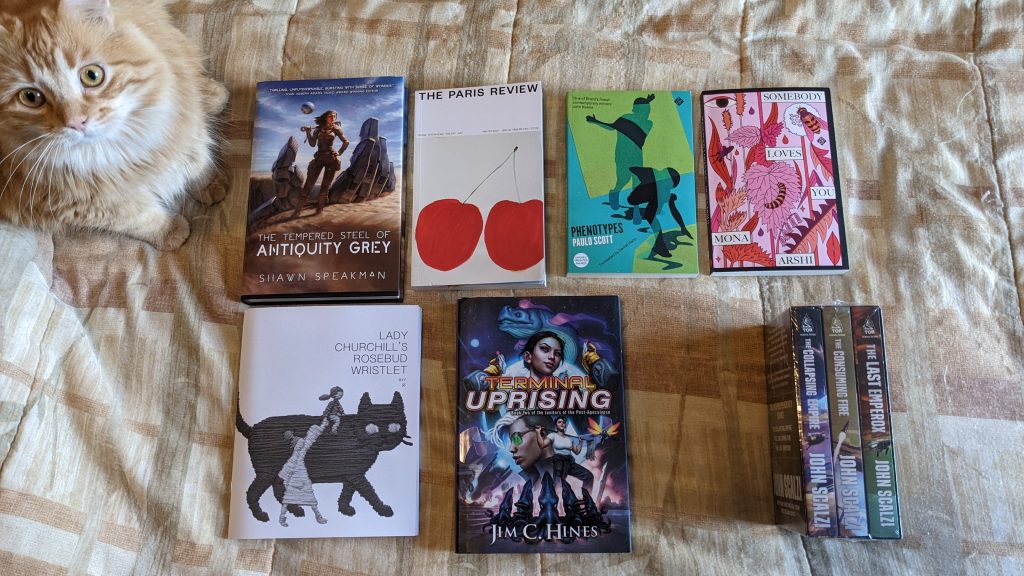 This past Wednesday I received my COVID booster shot at a local pharmacy and, like with the first and second shots in April, I felt an immediate sense of relief which was welcome but not altogether pleasant. It was something like a hangover, a post-stress reaction to getting a thing which is desired but not wanted, if you follow me. Since it was necessary, I was glad to get it, but I would much rather that it was not necessary. But this is the world in which we now live.
I just found out that an old friend has entered hospice, which, coming after another friend passed a couple of weeks ago, and two others in late winter and early summer of this year (none from COVID), really took the energy out of me. And all this in addition to Mom dying back at the beginning of September. Yeah, 2021 can go straight to hell, which at this point is kind of redundant.
On a more positive note, this was a most excellent week for the library at Winkelman Abbey, with many books and magazines arriving in this, the first full week of December.
First up is The Tempered Steel of Antiquity Grey by Shawn Speakman, newly arrived from a successful Kickstarter. This is another of the Kickstarters which was significantly delayed by the COVID-19 pandemic and the associated fallout and supply chain disruption. I suspect this will not be the last Kickstarter reward which will suffer from the events of the past couple of years, and at this point it is probably fair to say that this will be the normal state of affairs for the foreseeable future. As Hofstadter's Law states, "It always takes longer than you expect, even when you take into account Hofstadter's Law."
Next up is the latest issue of The Paris Review. I recently cancelled my subscription, or rather the automatic renewal of my subscription, as I have not read any of the previous six issues. However, the thought of no longer receiving The Paris Review causes me a sense of unease, so that cancellation may soon, well, be cancelled.
Next up are two(!) books from my subscription to the catalog of And Other Stories — Paulo Scott's Phenotypes, translated from the Portuguese by Daniel Hahn, and Mona Arshi's Somebody Loves You.
Next is issue 44 of Lady Churchill's Rosebud Wristlet, a small magazine of great words published by Small Beer Press.
Next is Terminal Uprising by Jim Hines. This is my second copy of this book. Hines signed the first one at ConFusion 2020, and I gave it to some friends who live on the east side of the state. This copy, however, is MINE, and I hope to get it signed at ConFusion 2022, which is scheduled for the third weekend in January.
And finally, the boxed set of the Interdependency series (The Collapsing Empire, The Consuming Fire, and The Last Emperox) by John Scalzi, of which much to my surprise I did not own copies. This is also a purchase specifically meant for receiving one or more signatures, as Mr. Scalzi is a regular attendee at ConFusion.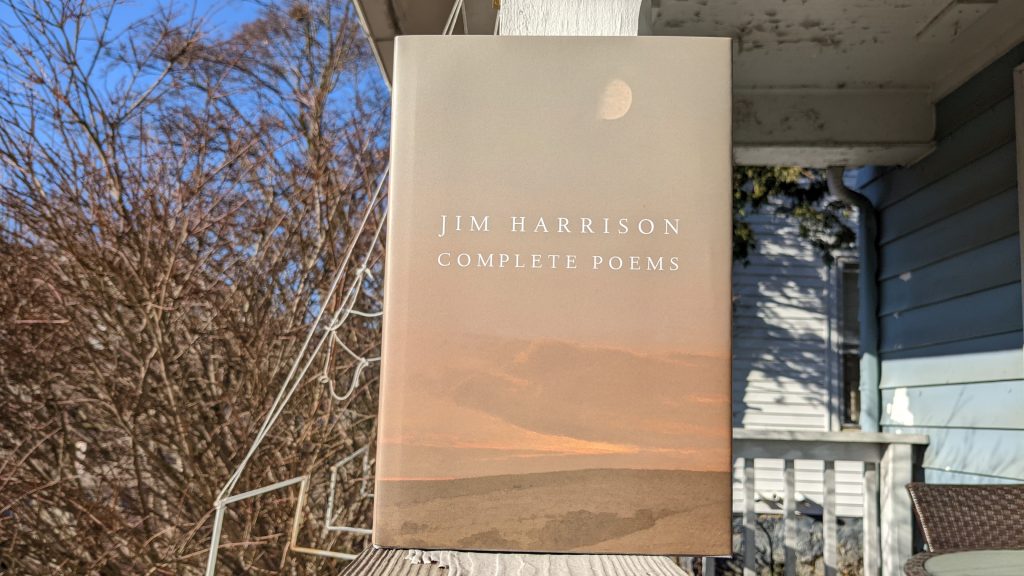 As Zyra and I were leaving to pick up dinner last night I noticed a box tucked in a sheltered corner of our porch. When I opened it I found my copy of the single-volume edition of Harrison's Complete Poems, which I was not expecting to arrive for several more weeks. This book is gorgeous; nearly 950 pages long, and it contains, as it says on the cover, all of Harrison's poetry. This edition includes a beautiful introduction penned by Terry Tempest Williams, and cover art, as with so many of Harrison's other books, by the late Russell Chatham.
Wednesday night after Tai Chi class, I watched the book launch event for Jim Harrison's Complete Poems, hosted by his publisher Copper Canyon Press. It included stories about Harrison, as well as his friends reading some of his poems. I have been a fan of Jim Harrison since the early 1990s when, at the suggestion of one of my professors, I picked up Wolf. One book led to another, and I have never looked back nor regretted a single minute spent reading his words.
The event was recorded and is available for viewing here on YouTube.
In reading news, I am (still) working my way through the stories in Dostoevsky's The Eternal Husband and Other Stories, as well as David Graeber's Debt: The First 5,000 Years. I am enjoying both immensely, but times being what they are I don't have a lot of energy or focus, and these books each deserve both. So I am reading slowly and in small chunks.
In writing news I am noodling around with a short story and a few poems, trying to work up the energy to dive back into my partially-completed NaNoWriMo manuscript. I would have made better progress, but 2021 keeps finding way to kick my legs out from under me, metaphorically speaking. So maybe I will hit my writing goals for the year. All I can say about that is, this year was a hell of a lot better than last year, writerly-speaking, but that doesn't necessarily mean it was good.