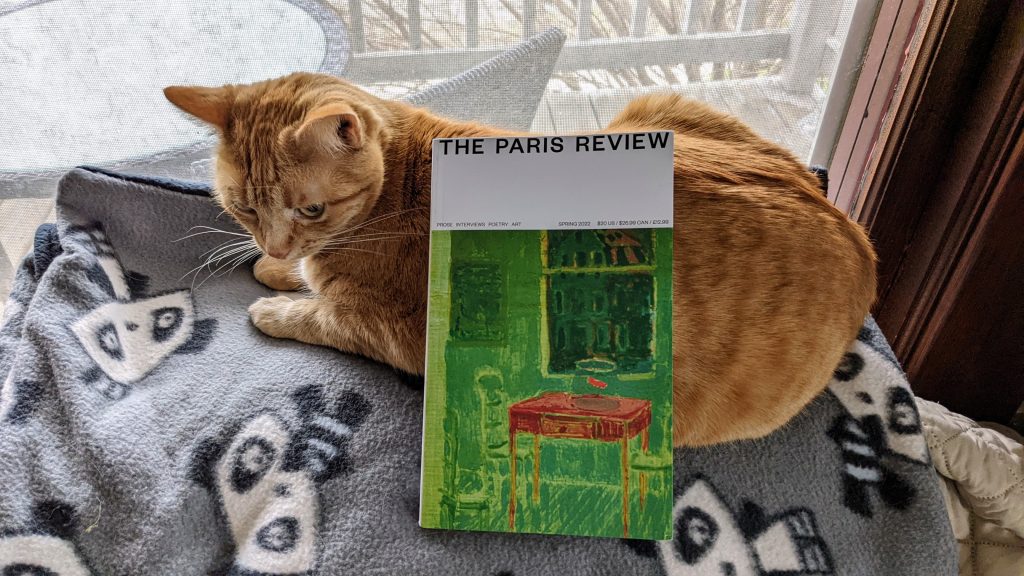 Early Satuday afternoon I drove to Garfield Park just south of downtown Grand Rapids, where I was interviewed as part of An Oral History of Poetry in Grand Rapids. I haven't really been involved with the poetry community for a few years, thanks in no small part to the COVID pandemic, so this was a wonderful reintroduction to The Scene.
As part of the interview my interviewer Toni Bal asked me to read a poem. I brought "Back-Road Labyrinth," which I wrote in 2018 or 2019. This was the first time I had read a poem in about three years, the previous being "36 Views of New Orleans" at The Drunken Retort in (I think) 2018. Now that I have read it, maybe it is time for me to send it out to be published.
I donated most of the print run of The 3288 Review to the project, from the Caffeinated Press archives which occupy three banker's boxes in my office closet.
The new issue of The Paris Review was the only arrival this week. Poe is earning her keep as a book rest, atop her panda blanket as she watches the porch for squirrels and birds.
In reading news, I finished Patrick S. Tomlinson's Gate Crashers. It was a lot of fun, with engaging characters and an interesting plot. Gate Crashers was Tomlinson's first book, and it is a little rough around the edges. He mentions in the author's note that he wrote it in response to the ending of the movie version of The Hitchhiker's Guide to the Galaxy, and it shows in the sense of humor and turns of phrase. Then again, there are worse influences to wear on your sleeve than Douglas Adams.
I am currently reading I am the Brother of XX, written by Swiss author Fleur Jaeggy and translated from the Italian by Gini Alhadeff.
In writing news, I didn't do much this week other than edit the poem I read for my interview. But I feel better than I have the past few weeks, so perhaps the changing of the month will bring renewed energy and I will be able to get back in the saddle.