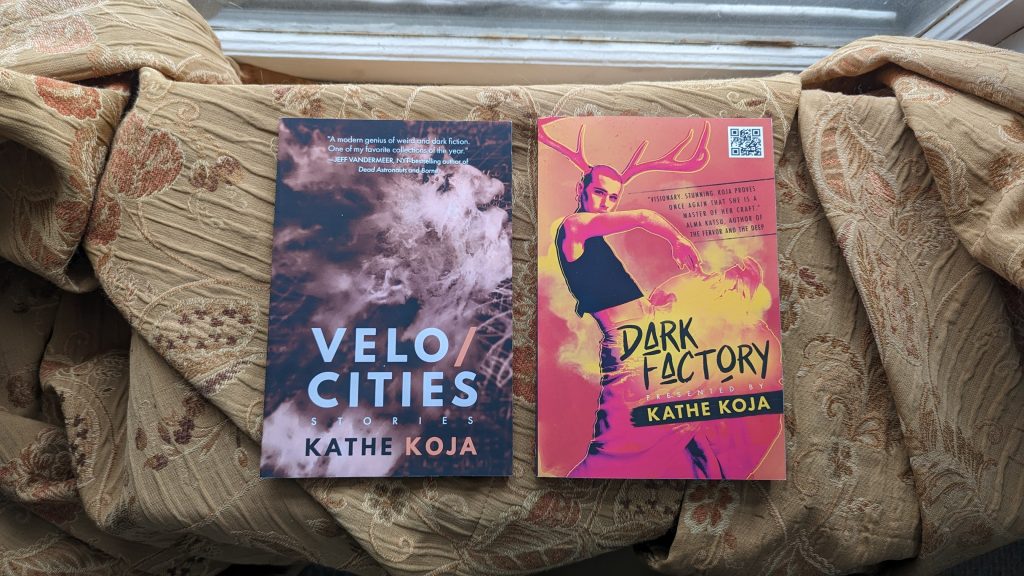 I am typing this on my new Lenovo IdeaPad Flex 3 Chromebook, which I purchased to replace my aging ASUS Chromebook, which was good while it was good, but now is old enough that Google stopped pushing updates, and every month it was noticeably slower. Like with any new technology upgrade, it is fun and exciting for the moment, but at the end of the day it is a Chromebook, and I will use it mostly for writing, either creative work or blog posts like this one.
I picked up a couple of new books, VeloCities: Stories, and Dark Factory, both by Kathe Koja, who will be the Creative Guest of Honor at ConFusion 2023 in a few weeks.
In reading news, with Crime and Punishment completed I next finished the remaining volumes from my now-cancelled subscriptions to Poetry Magazine and The Paris Review. Now I am meandering my way through my backlog of issues of Pulphouse and Lady Churchill's Rosebud Wristlet.
Not much to report on the writing front. My brain is mush from end-of-year burnout and also from a case of The Crud, which hit me a little over a week ago. I just bought a new fountain pen from Dryden Designs, with a fine nib. So far, I like it. We will see how the writing goes throughout the next few days.