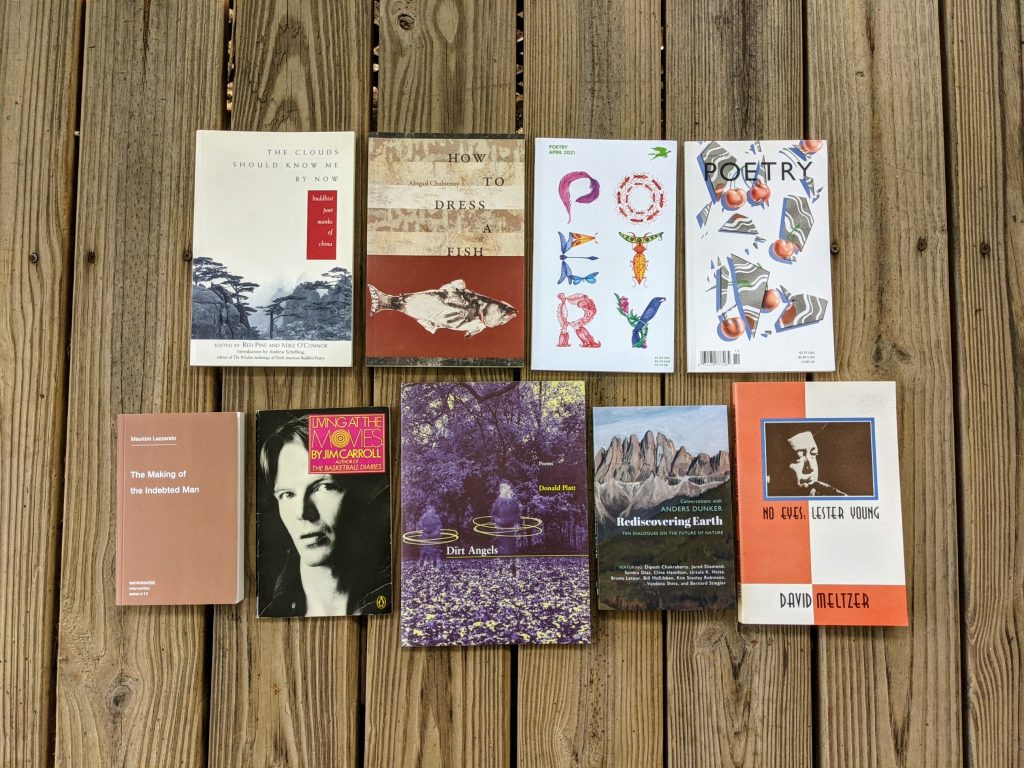 April was National Poetry Month so this month's list skews heavily in that direction. I included two issues of Poetry magazine, as an issue of a journal is just as much reading as a book. In fact, most lit journals could be considered anthologies with (mostly) no particular theme.
The combination of poetry and nonfiction (Kendi, Lazzarato, Dunker) – as well as my self-directed project to write a poem a day for the month of April – left my head in an interesting place. I haven't written poems this consistently in years. It feels good.
Also, for reasons of attention, work, and general malaise, I didn't read any short stories. Not a single one.
I think for May I will dive into my every-growing pile of genre fiction.
Books
Red Pine and O'Connor, Mike ( editors) – The Clouds Should Know Me by Now (2021.04.01)
Chabitnoy, Abigail – How to Dress a Fish (2021.04.04)
Kendi, Ibram X. – How To Be An Antiracist (2021.04.08)
Poetry, April 2021 (2021.04.10)
Poetry, October 2013 (2021.04.13)
Lazzarato, Maurizio – The Making of the Indebted Man (2021.04.15)
Carroll, Jim – Living at the Movies (2021.04.20)
Dunker, Anders (editor) – Rediscovering Earth (2021.04.28)
Meltzer, David – No Eyes: Lester Young (2021.04.30)