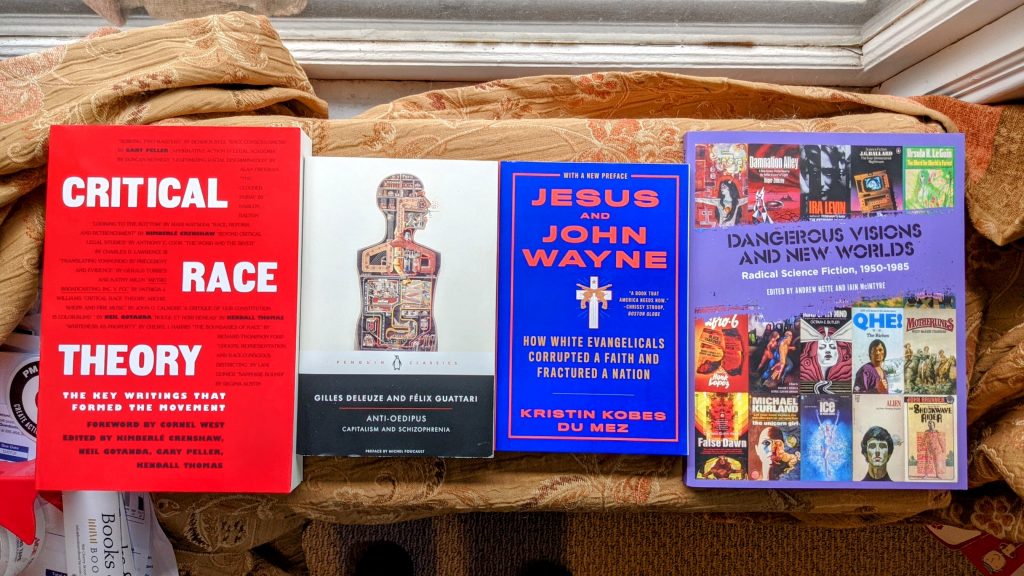 As of today I am past 40,000 words in National Novel Writing Month. This is not as much as I had hoped, but, well, I am 52 and don't have the burning energy and contempt for sleep and other healthy lifestyle choices that I had in my 40s.
Four new books arrived at the house in the past week.
The first three are purchases from Books and Mortar bookstore here in Grand Rapids.
First up is Critical Race Theory: The Key Writings That Formed the Movement, a collection of the central texts of CRT, edited by Kimberlé Williams Crenshaw and several others. With all of the white supremacists squealing and crying about how their children are being taught to be ashamed of being white, I thought that becoming well-informed on the subject was a necessity. And frankly, white supremacists should be ashamed of themselves.
Next up is Anti-Oedipus, the first volume of Capitalism and Schizophrenia by Gilles Deleuze and Felix Guattari. I picked up A Thousand Plateaus a couple of year ago, and it has been slowly warping my brain. I look forward to diving into this one, probably sometime this spring.
Third is Jesus and John Wayne: How White Evangelicals Corrupted a Faith and Fractured a Nation by Kristin Kobes Du Mez. I only recently became aware of this book, in a thread somewhere on Metafilter. It came up again, in another thread, and since I was heading to Books and Mortar to pick up the previous two books in this post anyway, I grabbed it from one of their tables.
Books and Mortar is just the best!
And last is Dangerous Visions and New Worlds: Radical Science Fiction, 1950 to 1985, edited by Andrew Nette and Iain McIntyre, from a recently completed Kickstarter run by PM Press.
In reading news I am still working my way through David Graeber's Debt: The First 5,000 Years. I had thought to be done by the end of the month, but I have had almost no time at all to do anything besides write, thanks to several unexpected time sinks popping up this month.
In writing news, as stated above I am just past 40,000 words into my text, and should hit 50,000 by mid-week. After that, we will see. I have a short story I would like to complete, as well as the story to which the current effort is a sequel. But as long as I keep writing, it's all good.