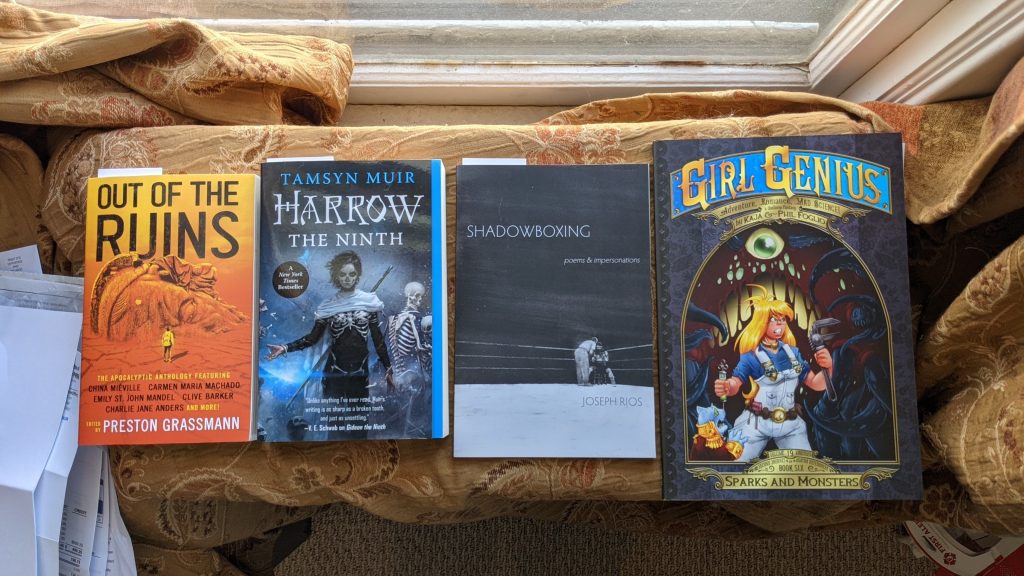 Another brief post, because life is busy right now.
Four new books arrived at the house in the past week. The first three are from an order I placed with Books and Mortar. The last is from a recently-fulfilled Kickstarter.
First up is Out of the Ruins, an anthology of apocalyptic stories edited by Preston Grassman. Since I like writing stories in the "salvage punk" subgenre, it seemed appropriate to read stories about events which would lead to the state of needing to salvage to survive.
Next is Harrow the Ninth by Tamsyn Muir, the sequel to the most excellent Gideon the Ninth, which I read last year.
Next is Shadowboxing by Joseph Rios. I picked this one up based on a single poem of his which was featured in the Poem a Day newsletter distributed by Poets.org. This is the first book of poetry I picked up in many months.
Last is the Volume 19 of the Girl Genius comic created by Kaja and Phil Foglio, titled Sparks and Monsters. This one was a long time coming, thanks to *gestures at everything* happening during the course of production. But it is finally here, and it is wonderful as usual.
In reading news, I spent a couple of hours at a laundromat this week, which gave me time to read four of the five stories in Jean Davis' collection Dreams of Stars and Lies, which I picked up, oh, some time ago. I read the fifth story on Friday, making the book the only one I read to completion in the month of November.
I also made a little headway in David Graeber's Debt: The First 5,000 Years, which I will probably finish by the end of the year. Maybe.
In writing news, on Thanksgiving Day I passed 50,000 words in my story, Racing the Flood Down to the Sea. That puts me at about 75 to 80% done with this the pre-first-draft version of the book. If I complete it, and if it seems to have potential, then at some point in the future I will edit it to get a proper first draft. Then the real work will begin.