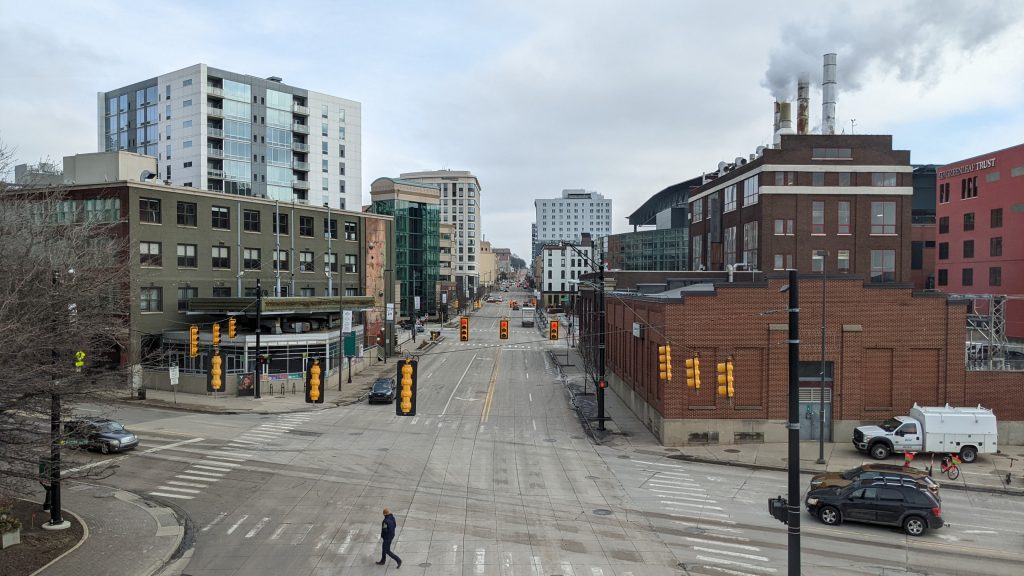 For the first time in two years, I walked to the office work twice in the same week. I discovered (1) that I really missed this small boundary between my work and home life, (2) Downtown Grand Rapids is much more quiet than I remember from past years, though the fact that it it still winter may have something to do with that, and (3) I am really out of shape when it comes to walking. The above photo is from a brief lunchtime walk along the Skywalk at the western edge of downtown Grand Rapids.
Still – it was really good to get out of the house, and on days when the weather permits the walk, I will once again be working from the office.
No new books arrived at the house this past week. Or rather, one did, but it was a duplicate of an earlier acquisition, sent in error as part of a Kickstarter fulfillment glitch. So it doesn't count.
This past Sunday I finished Hristo Karastoyanov's The Same Night Comes for Us All. It was great!
Yesterday I finished Glory and its Litany of Horrors written by Brazilian author Fernanda Torres and translated by Eric M.B. Becker. Also great, and somewhat bonkers.
After finishing the Torres I pulled down my copy of The Tyrant Baru Cormorant, the final book of the Masquerade trilogy by Seth Dickinson. Given how good the previous two books were, I have very high hopes for this one.
In writing news, I finally finished the short story I have been pecking away at since October. It left me feeling happy, satisfied and, somehow, restless. Like, now what do I do? I think what I do now is rustle up some other half-finished short stories and, well, finish them!