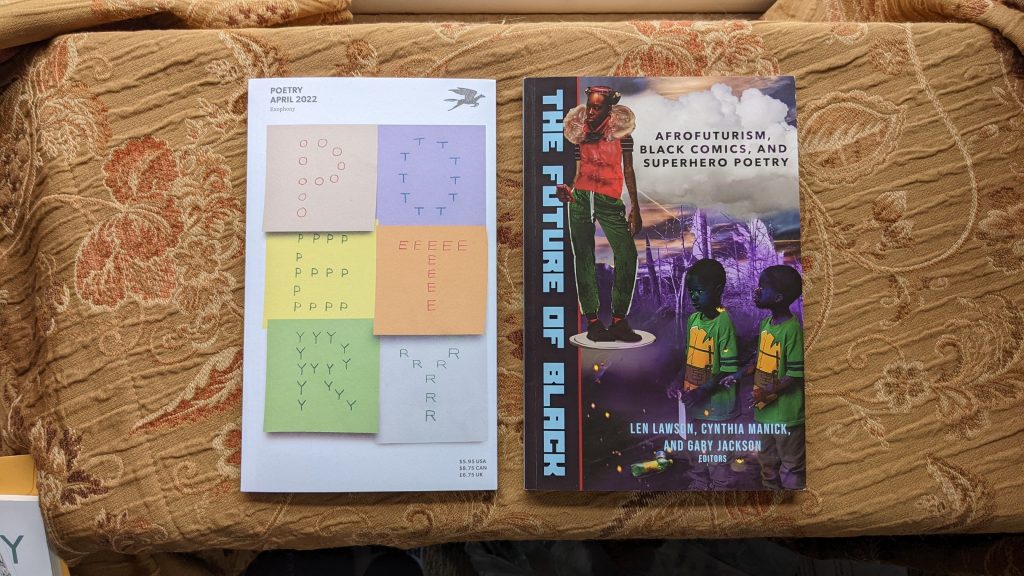 This past Tuesday I went to my first Open Mic night in over two years. The event, Poetry & Pie, took place at The Sparrows on Wealthy Street in Grand Rapids. It was the return of an event which had been ongoing at the cafe for some time before the pandemic closed everything down. Of course, with Tuesdays being Tai Chi night for the past thirty years, I had never attended, but now that practice has moved to Wednesday I took advantage of the opportunity and listened to some poetry.
Two new volumes arrived at the house in the past week.
First up is the latest issue of Poetry Magazine, a publication of which I have a shelf full of unread issues. But this being National Poetry Month, I am working my way through them at a rate of roughly one issue a day. So I might catch up to present by the middle of May.
Next is The Future of Black: Afrofuturism, Black Comics, and Superhero Poetry, which arrived unexpectedly as a gift from my good friend Miyah. An unexpected and appropriate addition at the start of National Poetry Month.
In reading news, in addition to the back issues of Poetry, I recently finished I Am the Brother of XX by Fleur Jaeggy, and also This Is Us Losing Count, a superb collection of Russian poetry in translation from Two Lines Press, as part of their Calico series. It's books like these that prompt me to shell out the money for annual subscriptions to their catalogs.
In writing news, it's all poetry, all the time, for the entire month. So far I am on track for one poem a day for 30 days and, as last year, I do so love having my mind in this space.