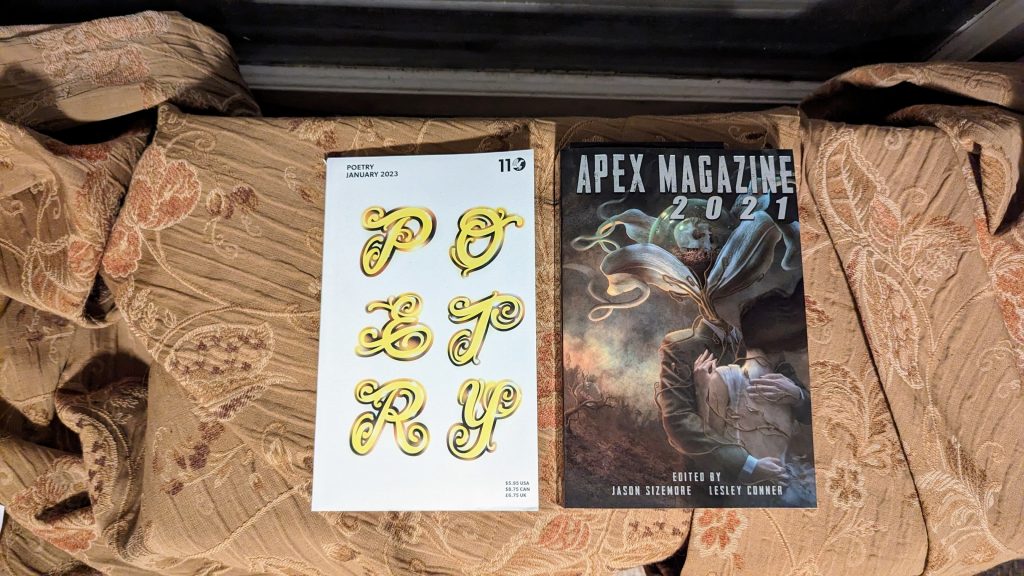 Welcome to 2023! 2022 was overall a good year, but also exhausting, and so I am kind of happy to see it in the rearview mirror.
Two book arrived here at the house in the last week of the year. On the left is the January 2023 issue of Poetry, which  came as something of a surprise, as I thought my subscription ended with the previous issue. I guess I was mistaken.
On the right is Apex Magazine 2021, the printed collection of the stories which appeared in the electronic editions of Apex Magazine, from their successful Kickstarter. This book has the honor of being the last book to enter the Library at Winkelman Abbey in 2022, in that it arrived in the afternoon of December 31. Excellent timing!
In reading news, I made some progress through the first issue of the new incarnation of Dreamforge, but my brain is so fried from *gestures at everything* that I couldn't motivate myself to do much more than watch The Blacklist and The Unbreakable Kimmy Schmidt, and play Stardew Valley.
In writing news, there is no writing news.
Starting in the new year, I will combine the "books I acquired" weekly posts with the "stuff I read" monthly posts, so now everything will be monthly. I plan to still do weekly (-ish) posts, but they will be both general and topical, and no longer exclusively about book stuff.
Happy New Year, everyone!