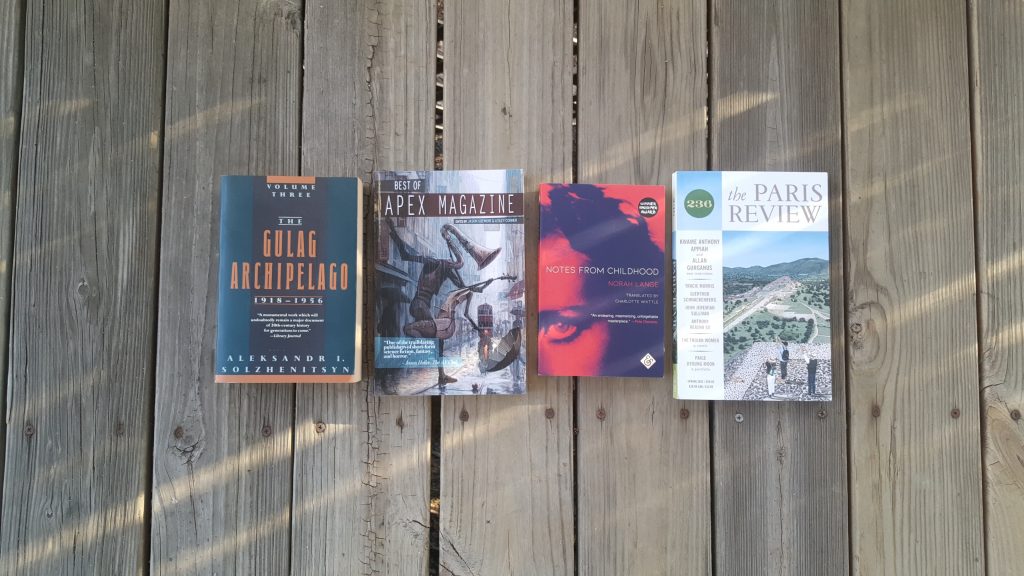 It was almost exactly a year ago that the COVID lockdown hit West Michigan and I began working from home. As the joke goes, this is not March 7, 2021, it is March 372, 2020.
A small pile of books and periodicals arrived here in the past week. On the left is volume 3 of Aleksandr Solzhenitsyn's The Gulag Archipelago. This was difficult to find, as it is a very specific volume 3 which is part of a set which was published in 1992. I picked up volumes 1 and 2 from the remainder shelf of Schuler Books and Music sometime around 1995. I kept hoping volume 3 would show up for cheap, and I left the bookstore in 1999 with that dream unfulfilled.
Next is The Best of Apex Magazine, which is volume 1 of a series, the other volumes of which have not yet been published. Apex Magazine went on hiatus in 2019 and has just recently come back, so future volumes of the anthology will hopefully be printed in upcoming years.
Next is Notes from Childhood by Norah Lange, translated from the Spanish by Charlotte Whittle and published by And Other Stories.
And last but not least is the latest issue of The Paris Review, which has managed to stay in print and excellent and relevant for over fifty years, which is admirable.
In reading news, I am well into Deepak Unnikrishnan's weird and wonderful novel Temporary People (Restless Books), which started out as a collection of short stories in the literary fiction genre, but soon blew straight through magic realism into the realms of satire and surrealism. And it is really, really good.
In writing news, events of the mundane world sapped away much of my free time and emotional energy and I accomplished very little. I still feel the drive and desire to be creatively productive so perhaps next week will be more fulfilling.
Tune in next week for such thrilling tales as "Welp. Here I am again," and "Here are some books," and if time and energy allow, "Here is some stuff I have been thinking about." See you next time, loyal reader(s)!