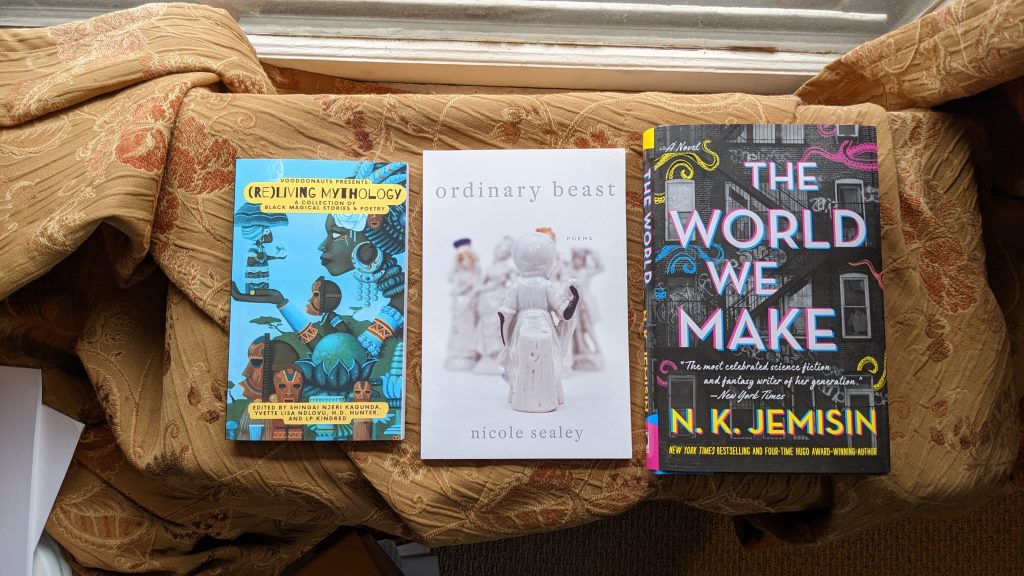 On Wednesday, November 23, I reached 50,000 words in Cacophonous, my 2022 NaNoWriMo project. I still have, I think, 15,000 to 20,000 words to go to complete the first draft. It probably won't be done by the end of the month, but hopefully by the end of the year.
First up is (Re)Living Mythology: A Collection of Black Magical Stories and Poetry, from Android Press, fresh from a successful Kickstarter campaign. The list of authors here is impressive and I very much look forward to diving into this one.
Next is Nicole Sealey's poetry collection Ordinary Beast, which arrived at the best bookstore in West Michigan, Books and Mortar. I first became aware of Sealey when I participated in the "Sealey Challenge" a couple of years ago.
While at Books and Mortar, on a whim, I picked up N.K. Jemisen's The World We Make, the sequel to her magnificent The City We Became. This book also has the honor of being the 100th piece of reading material to arrive in 2022.
In reading news, I just finished Duncan Hannah's collection of journals Twentieth-Century Boy. Hannah is a wonderful writer, and had a rich and full life. This is one of those books (like Jim Harrison's Just Before Dark) where it is easy to read a dozen pages and suddenly think, "What have I done with my life?" The answer, of course, is different for everyone, but usually more than you think.
With the end of the month just a couple of days away, I have started my read for Dostoevsky December: Crime and Punishment (translated by Richard Pevear and Larissa Volokhonsky), a book which I am ashamed to say I have not yet read, despite really meaning to for over two decades.