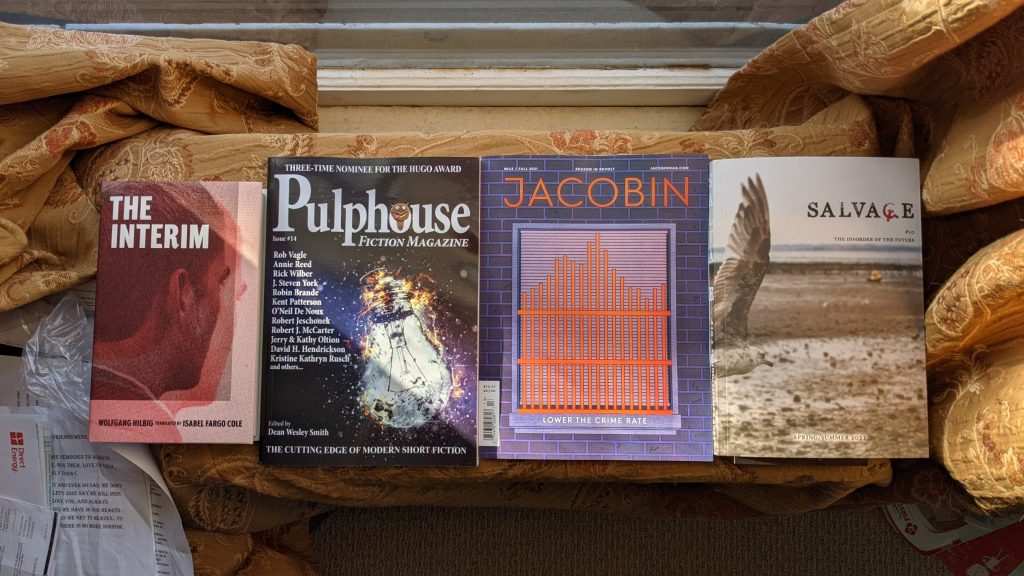 I have written more in the past two weeks than in the entire previous year. I wouldn't say I have recovered from anything; more that I have grown accustomed, finally, to the way things are now. The new abnormal, if you will, which could also be a newbie-friendly version of the New Weird genre. Like, Annihilation for junior high.
But whatever needed to click, clicked, and now I can write freely again, if not well. I am a little out of practice.
Four new readable things arrived this past week at the Library of Winkelman Abbey.
First up is The Interim by Wolfgang Hilbig, the most recent delivery from my subscription to Two Lines Press.
Next is the new issue of the ever-excellent Pulphouse Fiction Magazine, to which I will, one day, submit some writing.
Next is the latest issue of Jacobin. I have cancelled my subscription to this one as, though I like the magazine and appreciate what they do, I have a stack of over two years of mostly-unread issues sitting in my office.
Next is the latest issue of Salvage, subtitled "The Disorder of the Future." I will continue my subscription to Salvage for as long as they continue to publish. Though their topics are grounded in the present their viewpoint seems to be about five years ahead of the consensus reality, and I find that invaluable as I think about the events of the past few years.
In reading news, not much has happened because I have been too busy…
WRITING! NaNoWriMo started on November 1, and as of this post I have completed 17,000 words, or just over one third of the 50,000-word minimum to be a NaNoWrimo Winner. One third in one week is a comfortable buffer and I think I have it in me to get to 50,000 by the end of the month, though I have looked that particular gift horse in the mouth enough times to know that I shouldn't take my time/energy/motivation/health for granted.