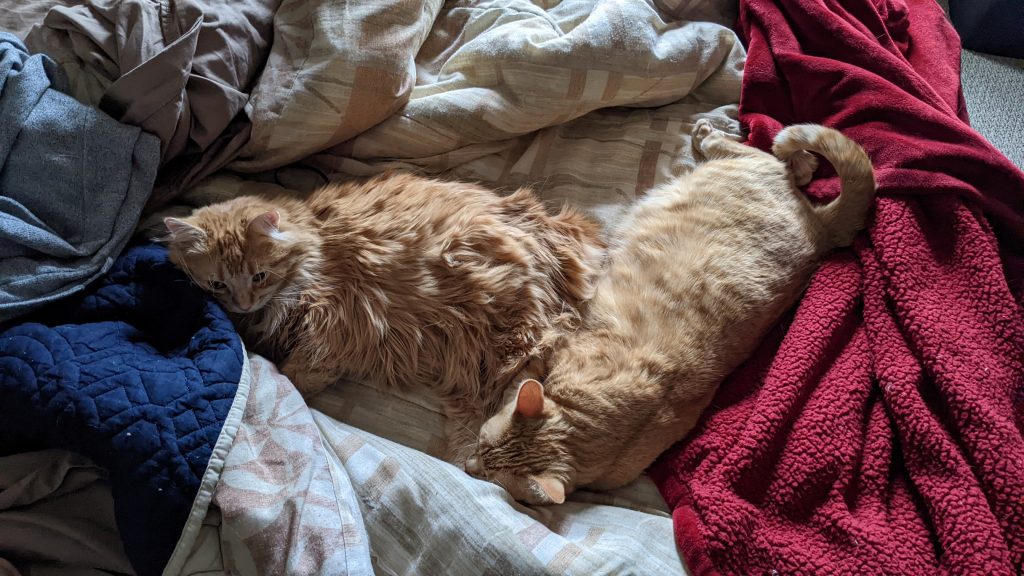 One more week to go in 2021, and though I don't expect 2022 to start out any differently than 2021 ended, it will be good, in terms of the zeitgeist, to put this year behind me.
Christmas was quiet this year. I avoided all of the extended-family gatherings and only went to a Christmas Eve dinner with my partner, my brother and his wife and daughters, and our recently-widowed stepfather. It went well, quiet and full of good food and good company.
No new books arrived in the Christmas week, so here is a photo of our little orange maniacs, taking a break from being maniacs (but not from being orange).
In reading news, I expect to finish both Debt and The Eternal Husband this week, and maybe start one of the books I hope to get signed at ConFusion next month, assuming the Omicron variant doesn't cause it to be cancelled at the last minute.
In writing news, there is, at the moment, no writing news. Maybe next week. Rinse, repeat.