Though ConFusion 2022 was much smaller than previous ConFusions, many authors still attended so I arrived with high hopes, a pocketful of money, and some bags. I brought a stack of books to get signed, and returned home with those and a dozen more, with the majority of the new books signed as well. Truly, this was a glorious weekend for my collection!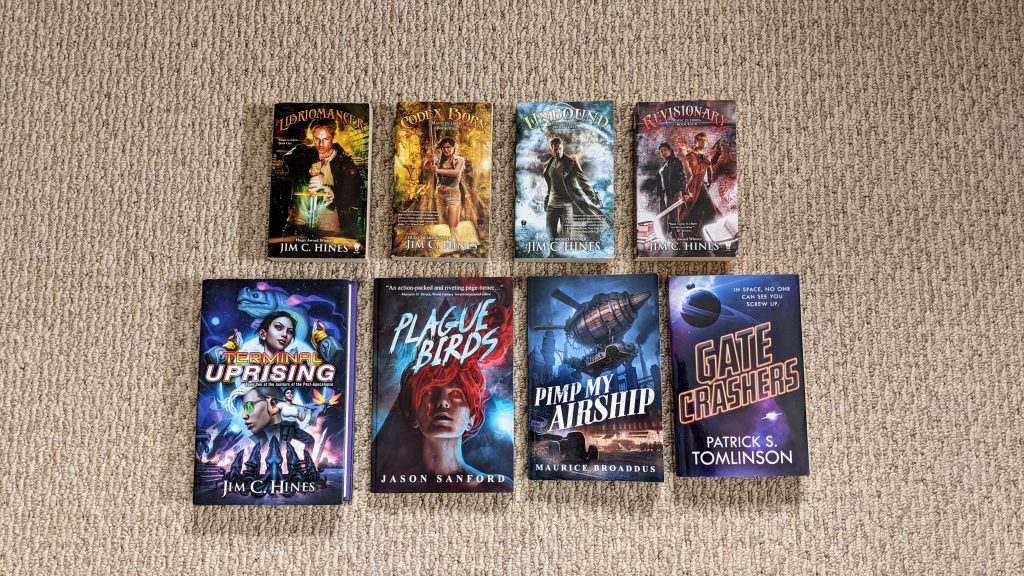 The first photo is the books I brought to ConFusion 2022 which were signed by the authors.
The top row is Jim C. Hines' Magic Ex Libris series, including Libriomancer, Codex Born, Unbound and Revisionary.
The second row starts Terminal Uprising, the second book in Hines' Janitors of the Post Apocalypse series. Jason Sanford's new novel Plague Birds is next, followed by Pimp My Airship by Maurice Broaddus, and Patrick S. Tomlinson's Gate Crashers.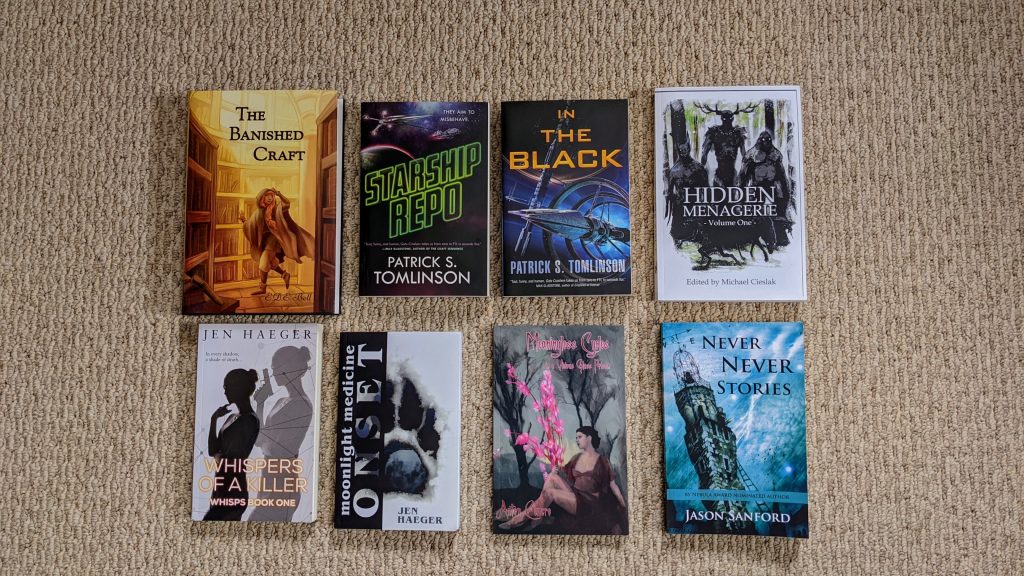 This photo includes the books I acquired at ConFusion 2022 and which were signed by the authors.
First up is The Banished Craft by E.D.E. Bell. Next are Starship Repo and In the Black by Patrick S. Tomlinson. Then comes Hidden Menagerie, an anthology edited by Michael Cieslak.
Next are two books by Jen Haeger, Whispers of a Killer and Moonlight Medicine: Onset. Next is Meaningless Cycles in a Vicious Glass Prison, a collection of poetry by Anton Cancre. Cancre was at the signing table filling in for author Sarah Hans, who was unable to attend the signing session. As thanks for buying two of Hans' books, Anton gave me his book for free (!) and was gracious enough to sign it. Later that day Anton again filled in for Hans in a panel I moderated, "If You Liked That, Read This!" which was loads of fun. I will discuss it more in my ConFusion 2022 wrap-up post.
And finally we have Jason Sanford's collection Never Never Stories which upon returning home I found is a duplicate. Oh, well. Now I have two copies of this book, in case I want to read it more than once.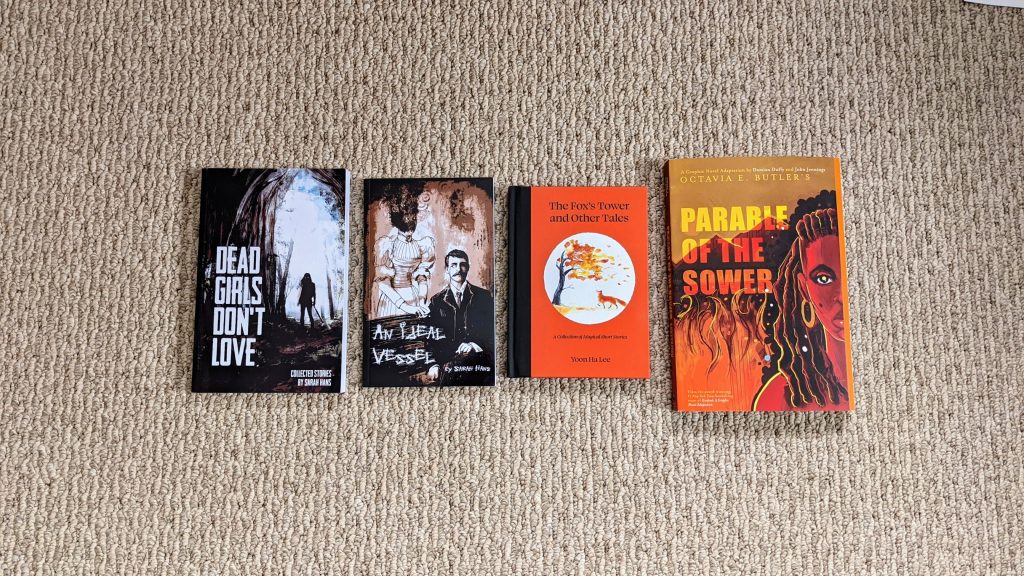 And these are the books I acquired at ConFusion 2022 which were not signed. For the first two, Dead Girls Don't Love and An Ideal Vessel, author Sarah Hans was indisposed during the signing. The other two, Yoon Ha Lee's The Fox Tower and Other Tales, and Damian Duffy and John Jennings' graphic novel adaptation of Octavia E. Butler's Parable of the Sower, my partner and I picked up at the bookstore in the dealer room on our way out of the convention to return home.
A dozen new books is actually a fairly small haul for me at a ConFusion, but again, this was a much smaller than usual version of the event. I should just have time to read these before the next ConFusion in 2023.