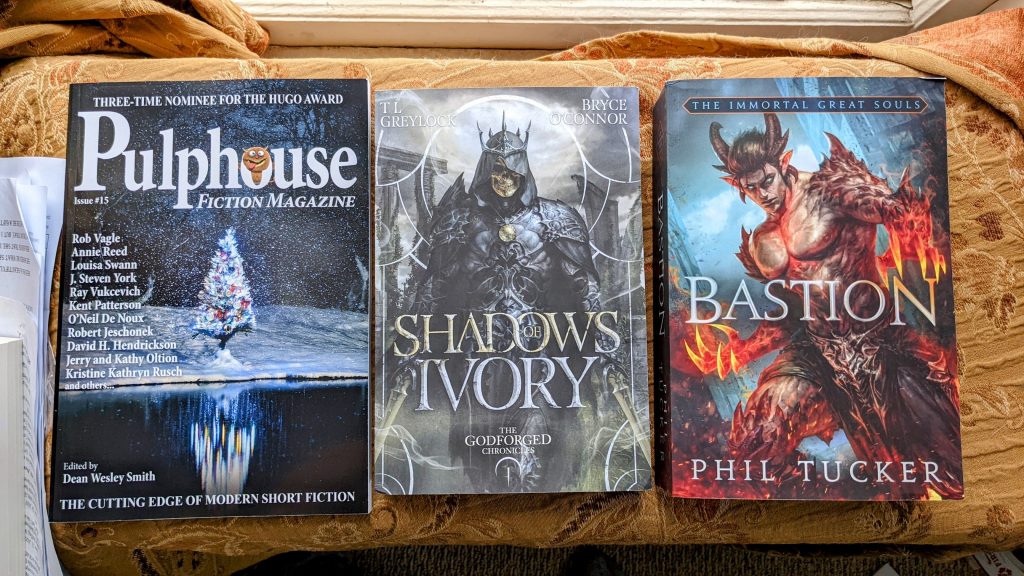 ConFusion 2022 Con Chair Lithie DuBois has just posted a transparent, detailed update on the state of ConFusion, which starts in a little less than two weeks. To sum up: ConFusion 2022 will still take place as a live event, and I will still attend as a volunteer and a panel moderator. However, the convention is in a precarious situation due to the timing of the Omicron variant and their contract with the hosting hotel. The post is well worth reading, even if you are not planning to attend the convention. This is truly a make-or-break year for ConFusion.
In more personal news, three new volumes arrived at the Library of Winkelman Abbey this past week.
First up is the latest issue of Pulphouse Fiction Magazine, from one of my few remaining active subscriptions.
Next up is SPFBO 7 finalist Shadows of Ivory by TL Greylock and Bryce O'Connor. I met Greylock at ConFusion back in 2019, when Dyrk Ashton introduced me to a number of self-published authors and thus opened the door to a vast trove of books and authors I likely never would have heard of.
Next is Bastion by Phil Tucker. I met Tucker in the same conversation with TL Greylock, at ConFusion. Truly that was a banner year for self publishing.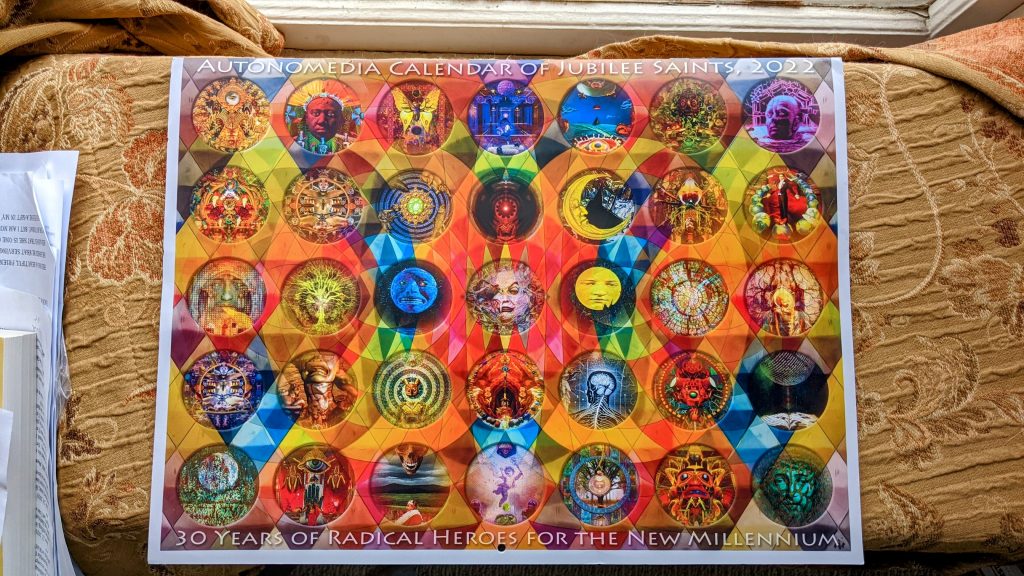 I also received the 2022 edition of the Autonomedia Calendar of Jubilee Saints, which is always a hoot. For example, this is the entry for January 9:
Holidays: Play God Day, Martyr's Day (Panama)
1859 – American feminist Carrie Chapman Catt born, Ripon, Wisconsin
1870 – Russian social theorist Alexander Herzen dies, Paris, France
1890 – "Robot-worker" writer Karel Čapek born, Malé Svatoňovice, Bohemia
1905 – Revolution breaks out in St. Petersburg, Russia
1908 – Philosopher, feminist Simone de Beauvoir born, Paris, France
1944 – Indian-German filmmaker Harun Farocki born, Neutitschein, Sudetenland
2021 – Ultra-leftist gay Israeli human rights activist Ezra Nawi dies, Jerusalem
You get the idea. It's quite an informative calendar.
I first became aware of Autonomedia when I worked at Schuler Books as the special orders manager. At that time there was no Amazon.com, the internet was new, and the WWW was very much in its infancy. Therefore if people wanted books and didn't know how to suss out publishers' addresses and catalogs, they came to me. We had an Autonomedia catalog, and received a small but steady trickle of orders for their titles. I have a few of their books in my library, and I think I had more, once upon a time, but either loaned or donated or sold them during one of my early, ill-advised book purges.
In reading news, I finished Rebecca Roanhorse's newest book, Black Sun, and loved it! Highly recommended. I am now a little past page 100 of Tamsyn Muir's Harrow the Ninth, and enjoying it every bit as much as I did her previous book Gideon the Ninth. I hope to have it finished by the end of the week, because my pile of unread books is still embarrassingly large.
In writing news, I didn't do a lot of writing as such, this being the first full week of the month and therefore the week set aside for editing and submitting. I spent all of my writing time organizing and cataloging all of the short stories and poetry which I wrote in 2021, and reviewed several of them to see which ones are worth revising and might eventually be worthy of submitting, or at least putting in front of beta readers. This will undoubtedly be an ongoing, rolling process, as tomorrow begins a week of writing, either creating new works or adding to existing, partially-completed works.
If any of you, my two or three readers, have writing goals, stories, or successes, feel free to leave them in the comments.
And that's it for this week. 2022 is starting off slowly and carefully, with looming dangers and wonders just over the horizon. Happy New Year, everyone!