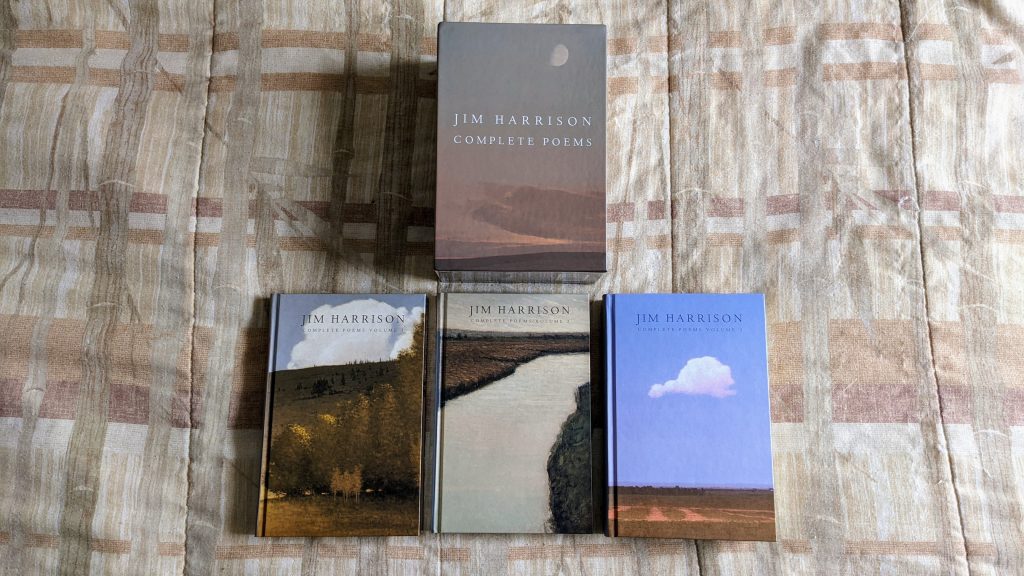 I've been busy playing catch-up this past week. Taking two days off of work to attend ConFusion 2022 turned into, as it always does, less of a vacation and more of a deferred workload. That workload caught up with me at 8:00 Monday morning, and was still dogging me when I logged off at 18:00 Friday afternoon. But by several orders of magnitude I am not paid enough to work weekends when the literal end of the world is not at stake.
The only reading material to arrive in the past week, and it is a very big deal, is the three-volume boxed set of Jim Harrison's Complete Poems. This collection is absolutely beautiful. The book covers are from paintings by the late Russell Chatham, and the volumes have introductions by (respectively) Colum McCann, Joy Williams, and John Freeman. This set was a special edition published through Copper Canyon Press's project The Hearts Work: Jim Harrison's Poetic Legacy. The online book launch celebration is available for viewing on YouTube.
In reading news, I finished Tamsyn Muir's Harrow the Ninth in the middle of last week, and started Station Eleven by Emily St. John Mandel shortly thereafter. I finished it this past Thursday evening, in our hotel room at ConFusion. After returning home I started reading S.A. Chakraborty's The Empire of Gold, the third volume in her fantastic Daevabad trilogy.
In writing news, I was thrown off my stride somewhat by preparing (physically, mentally, and emotionally) for ConFusion, so I didn't accomplish much. This past week I have made some more progress on my short story, and should have it finished next week. Since my new writing routine has the first full week of the month set aside for editing, I still have one more writing week in which to complete some work. Thanks to my weekend of good friends, good fellowship and good vibes, I feel energized to dive back into my creative work.