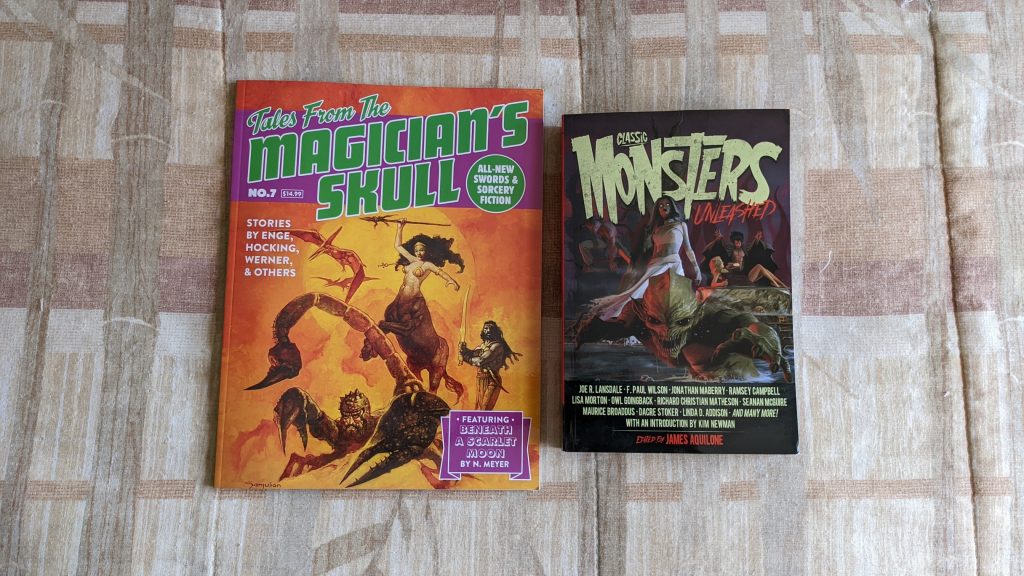 First up is issue 7 of Tales from the Magician's Skull, from a Kickstarter I backed this past October. It looks great, and I am eager to dive into it.
Next is Classic Monsters Unleashed, from a Kickstarter run by editor James Aquilone. This was another of the Kickstarters for which the reward was delayed by *gestures at everything*.
I like the coincidence of a magazine of classic sword-and-sorcery style stories arrived the same week as a collection of new stories about classic monsters. I appreciate the connection of the classic with the current, the exploration of how the old influences the new.
In reading news, I finished Jesus and John Wayne and it left me in a foul mood. The book itself is excellent, well researched and well written, but the subject matter – the white evangelists who are deliberately working to turn the United States into a militant christian patriarchal ethnostate – well, let's just say I don't agree with their works, message, or goals. I have a small review written up in my monthly reading list which will post on the first day of March.
To cleanse my palate, reading-wise, I picked up Per Aage Brandt's beautiful poetry collection If I Were a Suicide Bomber, translated from the Danish by Thom Satterlee and published by Open Letter Books. I originally acquired this book through my subscription to Open Letter Books, which I let lapse a couple of years ago because I had not read any of the books they had shipped me in well over a year. Now I am slowly working through my backlog of almost three dozen.
I finished If I Were a Suicide Bomber the same day I started it, as I had taken a sick day from work and a few hours is plenty of time for a leisurely read through a poetry collection. I loved it! The poems are sharp, insightful, and full of humor. Taken individually, there are some echoes of Charles Reznikoff's Testimony (though lighter), and taken as a whole I noted an occasional similarity to Notes From A Bottle Found on the Beach at Carmel by Evan S. Connell. Highly recommended.
Now I am reading The Same Night Awaits Us All by Hristo Karastoyanov, translated from the Bulgarian by Izidora Angel and also published by Open Letter Books. So far it is quite good, and would fit well on a shelf next to Andrei Bely's Petersburg,and perhaps a short distance from Umberto Eco's Foucault's Pendulum, if only because they both involve small, quirky publishing houses.
In writing news, I didn't accomplish much this past week due to the aforementioned sick day and the associated disruption to my schedule and routine. Perhaps next week will be a little more stable.
That's it for now. Unless something extravagant happens in the next ten days, this may be the first month in a very long time where I read more books than I acquired. A few more decades of that and I might get to the point where have read every book I own.