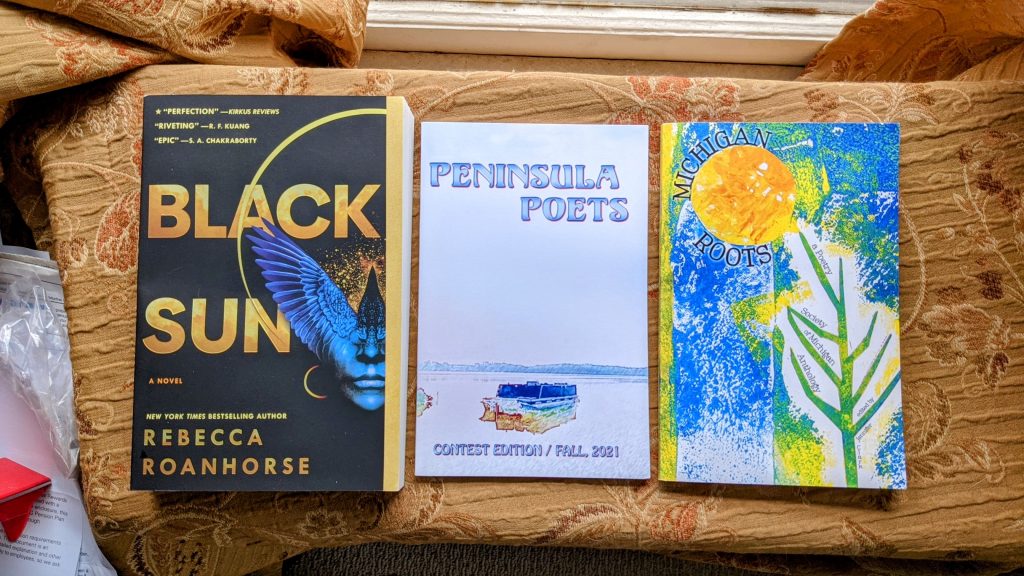 Here I am, almost halfway into NaNoWriMo and well past the halfway point in my word count. I haven't done this well in NaNoWriMo since, I think, 2019. Today I reached 30,000 words, and with due application of virtual ink and elbow grease I could possibly hit 50,000 by end of day of Friday. That would leave me eleven days to finish up the book and maybe work on a couple of other writing projects. That's the real goal, after all – finish this draft of the book.
Three volumes arrived here at the Library of Winkelman Abbey in the past week.
First up is Black Sun by Rebecca Roanhorse, which has the honor of being the first book I purchased from Books and Mortar after they re-opened the store in their new, improved, and much larger new space.
Next is the latest issue of Peninsula Poets, the biannual magazine of the Poetry Society of Michigan, of which I am a member when I remember to pay my dues.
Next up is Michigan Roots, the once-every-five-years anthology of the poetry of the members of the Poetry Society of Michigan. This is of particular significance to me, because it contains one of my poems! "Afternoon Traffic", which was originally published by Portage Magazine in the 2020 edition of their online magazine, is reprinted here thanks to the efforts of editor Jennifer Clark, who reached out to me this past spring to see if they could include my poem in their anthology.
In reading news, there is nothing new to report, because I'm spending all of my spare moments writing. 30,000 down, 20,000 to go, and 16 days in which to do it. I feel cautiously optimistic.