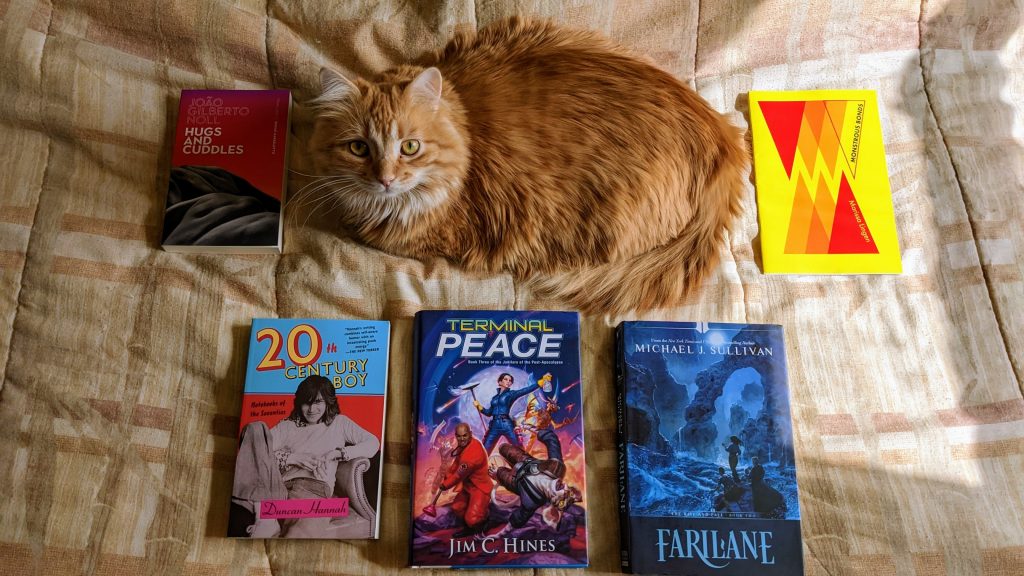 Woke up one morning, and there was frost on the porch roof and the windshields of nearby cars. That hasn't happened in a while.
This was an excellent week for the acquisition of books, and Pepper would like to share with you this list.
First up, from my soon-to-end subscription to Two Lines Press, is João Gilberto Noll's Hugs and Cuddles, which looks like it will be a great read.
Next is Marissa Lingen's chapbook of short stories, Monstrous Bonds. I met Marissa at ConFusion back in 2015, and have enjoyed her fiction, poetry and book reviews for several years.
Next is Duncan Hannah's memoir 20th Century Boy. As I wrote back in August, I had not heard of Hannah until reading excerpts from this book in The Paris Review, and when I searched for more info discovered that he had died this past June. How's that for timing?
Next is Jim C. Hines' newest entry in the Janitors of the Post-Apocalypse series, Terminal Peace. I see Jim every year at ConFusion, so I hope to run into him again and, with a little luck, get this book signed.
Last but not least, and fresh from a successful Kickstarter campaign, is Michael J. Sullivan's Fairlane, the sequel to Nolyn and the second book of the Rise and Fall series.
In reading news, I have two more issues of The Paris Review left on my stack, and should be finished with them in short order.
In writing news, I have completed nothing cohesive, but am making good progress on the worldbuilding for my NaNoWriMo project. So even if I don't write 50,000 words in November, I will have a good base to finish the book, no matter how long it takes.