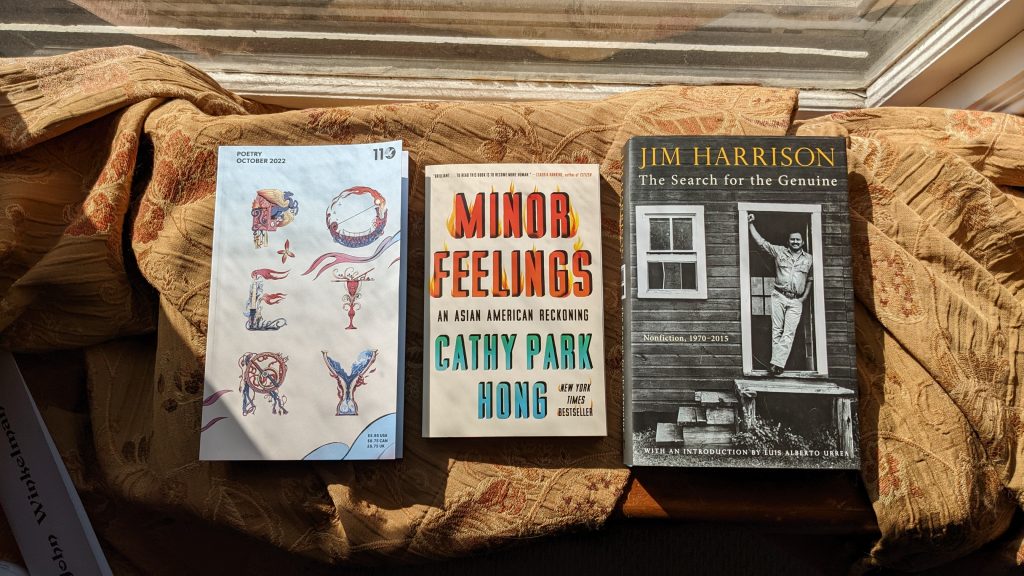 Well that September just flew by, didn't it? It wasn't a bad month, just busy and barely any time to sit and relax. All I can say is that it was a hell of a lot better than September 2021.
Three new books and journals have been added to the library in the past week.
First up is the October 2022 issue of Poetry, which arrived on Wednesday and I read on Thursday, because I had a chunk of quiet time.
Next is Cathy Park Hong's Minor Feelings, which I added to my list after coming across some of her poetry online. Upon returning home from Books and Mortar, we discovered that my partner Zyra had picked up a copy some months ago and it was sitting on a shelf in plain sight. At least now, as the joke goes, I can read it more than once.
On the right is The Search for the Genuine, the new collection of Jim Harrison's nonfiction writing. I doubt there is much in here that I have not already read at some point, but Harrison's nonfiction is just a pleasurable a read as his fiction and poetry so this is a welcome addition to the collection.
In reading news, in addition to the above I am on the first issue of 2021 of The Paris Review, which means I have only half a dozen remaining in my stack. I might get one more issue. As stated before, I am going to focus on this journal until I am caught up to present, then move on to the next stack of back issues of something.
One of the consequences of reading so many short stories by such a wide variety of writers is that, inevitably, I discover people who have recently died. This happened back in July with Duncan Hannah, whose book Twentieth-Century Boy was excerpted in The Paris Review in 2017. Hannah died this past June, aged 69, which no longer seems very old to me.
This past Friday I cracked open issue #236 (Spring 2021) of The Paris Review. The first item therein is the brilliant short story "Maly, Maly, Maly" by Anthony Veasna So. So died in December 2020 at the age of 28, just before his first book Afterparties: Stories was released.
In writing news, I am planning out my NaNoWriMo project, so while I am taking a lot of notes, I am not writing anything at the moment with a coherent narrative. This will be the first time I have planned out a project in advance, beyond the most basic outline of the order of events. At the moment, I feel optimistic that I will actually finish the first draft before the end of the year.