Welcome to the Insecure Writer's Support Group post for January 2022.
Trying to take advantage of the zeitgeist, I started the new year with specific goals and plans for my writing life for the next six months. I am much more productive and engaged when I have a set routine, though every plan, no matter how flexible or rigorous, is subject to disruption by outside influences.
In 2020 I tried a weekly routine where I would write in the mornings on Monday, Tuesday, and Wednesday, then edit on Thursday and submit on Friday. Saturday and Sunday were rest time, and also "open hours" for cleaning up the odds and ends left over from the week.
Note that these three steps were not all the same writing pieces. I was not starting a poem at the beginning of the week and submitting it at the end. The work I edited was from weeks and months prior, and the works I submitted were from months and years prior.
I liked the feeling of continuity of working on writing from now, the recent past, and the more distant past. But three mornings a week is often simply not enough time. Editing, in my experience, takes at least as much time as writing, and submitting stories and poems is a lot more complicated than simply copying a poem into the body of an email and sending out into the world.
So though having discrete chunks of time for each step of the writing process was useful, the schedule I chose was too fine-grained and I found it difficult to get my head into the correct space for the daily tasks.
So this year I am trying a variation on the previous theme. The first full week of the month is set aside for editing and submitting, and the rest of the month is for writing. This way I can be fully immersed in a given (or several) projects, while setting aside time to let those projects evolve and go out into the world.
Since this is the first full week of the month, this is an editing week, and I am using it to organize and catalog the 40+ poems I wrote in 2021, and see which ones have promise. If I finish with the poetry I will knock the dust off of one of my old short stories, and see if I can't get it to a place where I can send it out for publication.
This month's IWSG question is:
What's the one thing about your writing career you regret the most? Were you able to overcome it?
This is an easy one. The thing about my writing career I regret the most is the years between 1999 and 2013 where I produced almost no creative work at all.
Back in the mid to late 1990s  when I was working at Schuler Books and Music, the majority of my cow-orkers were writers, and we were all full of the kind of creative energy which comes from being part of a close-knit group of over-educated, underpaid creative types at loose ends. We created and attended reading groups, writing groups, book clubs, poetry and music events, plays, and the monthly POT (philosophical, ontological, theological) group meetings where we would stay up until the wee hours discussing topics like love, creativity, responsibility, religion, the past, the future, and the present in all its wondrous and terrible facets. We were (mostly) in our twenties. We had energy for that sort of thing.
Then I started my career as a web developer and programmer, and abruptly all my energy (and time) went to learning how to make things look good and work correctly in a web browser. This was in 1999, at the peak of the DotCom boom and I would regularly work 50-80 hour weeks, and my creative writing output dropped off to practically zero. When I look through my personal journals from that time, there are multiple gaps of several months where I didn't write at all. And what I did write was mostly short entries complaining about being burned out and exhausted. All of my energy was going into my career, such as it was.
Then in late 2013, fresh off of the end of an extremely toxic relationship and a hellish work project where I was writing code for twelve hour days for weeks at a time without a break, I discovered National Novel Writing Month. I immediately joined a writing group made up of people from the local NaNoWriMo community, and from this experience blossomed Caffeinated Press and The 3288 Review. So as abruptly as my writing career had stalled back in September 1999, it restarted just as abruptly on November 1, 2013.
Those are fourteen years I can never get back, and in my bad moments I resent the hell out of the jobs, employers and managers who demanded so much of my time and creative energy in return for so little compensation. But I do have a stable career now, which allows me sufficient (if not exactly ample) time to write, edit and submit my work. I regret all that wasted time, but what's past is past and I am writing now. That's all that matters.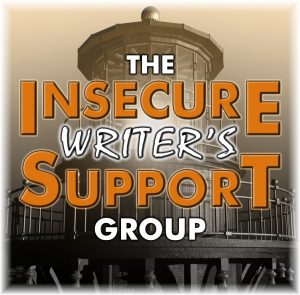 The Insecure Writer's Support Group
is a community dedicated to encouraging
and supporting insecure writers
in all phases of their careers.