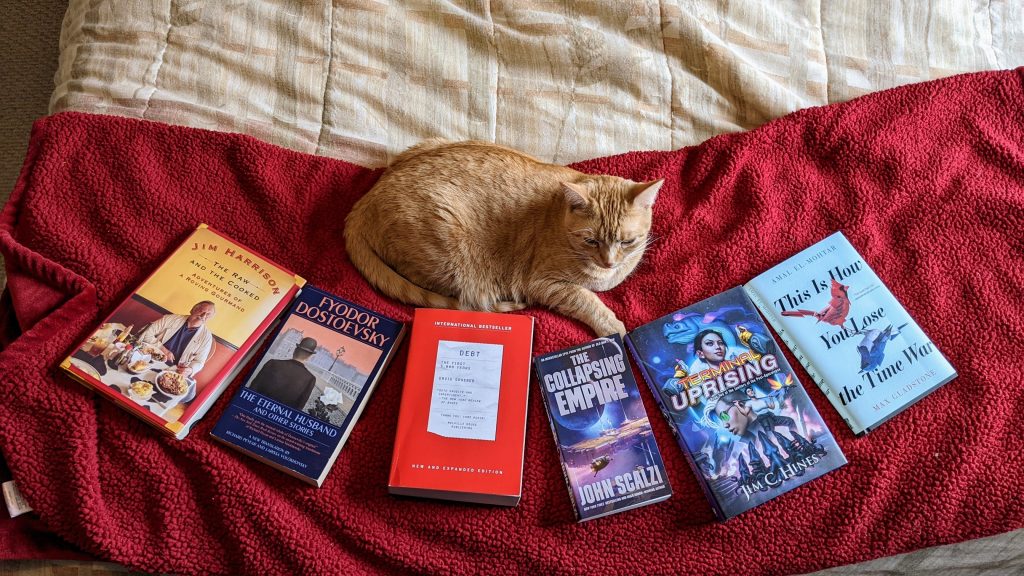 Reading-wise, this month started out slowly. Between the mental fatigue of finishing NaNoWriMo and the emotional fatigue of GODDAMN EVERYTHING, I didn't have much brain power left to work my way through the two books I started reading back in October (Graeber) and December (Dostoevsky). Dostoevsky and Graeber are brilliant and rewarding writers, but wow, do they require a lot of focus and mental energy to read attentively.
As a counterbalance, as soon as I finished the Graeber I picked up a few books from my embarrassingly large pile of unread genre fiction. These books were much easier to read. This is not to say that genre fiction is on its face light or inconsequential. The Scalzi, Hines, and El-Mohtar/Gladstone volumes were much easier to read simply because they were (a) not Dostoevsky, and (b) not an economic treatise which covers the previous five millennia of world history.
Jim Harrison's book sneaked in at the top of the list because I picked it up after the arrival of his Collected Poems at the beginning of the month, and essays about food make for comforting reading.
All of the short prose I read this month was contained in the Dostoevsky. Six birds with one stone. Or maybe one bird with five pebbles, depending on how one splits that particular hair.
Books
Short Prose
Dostoevsky, Fyodor, "A Nasty Anecdote", The Eternal Husband and Other Stories (2021.12.05)
Dostoevsky, Fyodor, "The Eternal Husband", The Eternal Husband and Other Stories (2021.12.26)
Dostoevsky, Fyodor, "Bobok", The Eternal Husband and Other Stories (2021.12.27)
Dostoevsky, Fyodor, "The Meek One", The Eternal Husband and Other Stories (2021.12.27)
Dostoevsky, Fyodor, "The Dream of a Ridiculous Man", The Eternal Husband and Other Stories (2021.12.27)